Saturday, December 18, 2010
Isn't young love special? Isn't love special? Baby boy introduced me to his new girl friend today. She flew in for the week end, so I was glad for the opportunity to meet Baby Boy's new love interest.
We went out to eat then afterwards picked up my mom, his grandma and went to vist baby girl and her family, then drove through the Christmas light display we have in town. The lights were quite spectacular and then we parked and went inside where they are holding a Christmas tree auction and housing a couple live reindeer. Look at those reindeer hooves!
His girlfriend and I had a wonderful chat and talked like old friends. I really like Mariolina. She and I both noted how the trees on display were being auctioned off for worthy causes. There were several and they were donated from many worthwhile agencies/causes in Michigan. The bid is silent (see the mail box at the base of the tree) and the winning bid gets the tree, decorations and all the gifts beneath it. The cause gets the purchase price. What a win/win event!
This post linked to
Our Weekend Memoirs
and
Camera Critters
!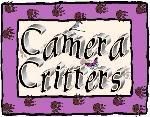 Take care and God bless!